(TOLEDO, Ohio - January 24, 2014) - Frank Kimmel's ARCA Racing Series presented by Menards history is well documented. Most notably, Kimmel has 10 series titles (most all-time), 80 career wins (most all-time), well over 11,000 laps led, and so much more.
So when it comes to ARCA, what's left to conquer for Kimmel?
"I've never spent a lot of time looking at records," Kimmel said. "Yeah it's remarkable to think about all that we've accomplished, but we have to keep our focus looking ahead.
"What I focus on is what I've always focused on, and that's the next race. And there's plenty to conquer at the next race, and the one after that. Winning does not get old."
And it just so happens that the next race is Daytona, ARCA's marquee event. Kimmel, despite winning nearly everywhere on tour, is well aware that the "World Center of Racing" is not in his win column.
"That's one (Daytona) that's not checked off my resume. We'd love to be able to do that. It would be huge for our family. We've been going down there for decades, since I can remember, to see my dad race. It would mean a lot. But Daytona would mean a lot for anyone, no matter where you sit in the win column.
"But for me, just to go and try to win the next race is enough motivation for me, no matter where it is."
Like everyone preparing for the busy race season ahead, Kimmel's immediate focus is shoring up all the details with his new team - Win-Tron Racing.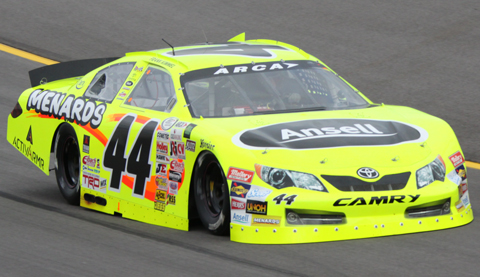 "There are so many things to think about getting ready for any season. The business side of this thing is critical. We've got to make sure our sponsors - Ansell and Menards - are taken care of the way they should be. It's all the little stuff that adds up to big stuff - getting the hauler wrapped right, the team uniforms, my driver uniform, getting all the artwork correct; everything has to be right."
Kimmel has already been fitted into the seat of the No. 44 Ansell-Menards Toyota at Win-Tron Racing, but the details to running a successful race team need constant attention.
"I've been talking with Kevin (Cywinski/co-car owner) and Nate (Thiesse/co-car owner) about every other day. We've talked about what type of belts I like, what steering wheel to use, and all those details. I've never been too particular about all that stuff, so I'm not going to start now, but it all needs discussed, and there are constant decisions to make."
In 22 consecutive starts at Daytona, Kimmel has eight top-five finishes including five consecutive (2001-2005) during which he finished second in back-to-back years (2004 & 2005) and third back-to-back in '01 and '02. Kimmel finished fourth in last year's race, setting the tone for his championship run.
The Lucas Oil 200 presented by MAVTV American Real at Daytona is live on FOX Sports 1 Saturday, February 15, and precedes NASCAR's Sprint Unlimited.
ABOUT MENARDS:
With 280 stores in 14 Midwestern states, Menards has the tools, materials and supplies for all your home improvement needs whether just needing a light bulb or can of paint to building a deck or new home. Menards is known throughout the home improvement industry as the low price leader; it's no wonder their famous slogan - "SAVE BIG MONEY" - is so widely known and easy to remember. Menards does things right - the company's strength and success can be seen in the well-stocked and maintained stores, the lowest prices in town and the way guests are always treated like family in a hometown hardware store atmosphere.

ABOUT ANSELL:
Ansell is a global leader in protection solutions, with operations in North America, LAC, EMEA and Asia-Pacific. Ansell designs, develops, manufactures and markets a wide range of surgical, examination, industrial and household gloves, protective clothing and condoms. People in over 100 countries around the world put their trust in Ansell's innovative, high-quality solutions to offer superior protection, combined with high levels of comfort and performance. Ansell holds its operational headquarters in Iselin, NJ, USA and its parent, Ansell Limited, is registered in Melbourne, Australia. Worldwide, the group employs over 10,000 people in 33 countries.