(TOLEDO, Ohio - March 31, 2013) - The weather finally broke, and the gates swung open at Toledo Speedway for the first round of several tests already scheduled in preparation for the first two big-shows of the season - the 7-Up 150 on Saturday, April 20 and the Menards 200 presented by Federated Car Care on May 19. And the father-son duo of Fred and Brian Campbell were the first to put their car on the pavement at Toledo Friday afternoon. Their focus was the 7-Up 150, when the ARCA CRA Super Series and the ARCA Midwest Tour join forces for the first time in history to battle it out in the annual Border Wars 7-Up 150.
Campbell was also preparing for a big late model show at Fairgrounds Speedway Nashville next weekend, in addition to the 7-Up 150.
"Nashville is similar to Toledo in a lot of ways, so what we learn here today should serve us well at Nashville, and when we come back to Toledo," Brian Campbell said.
Brian is the defending 7-Up 150 champion, and plans to come back to Toledo to defend his title. The former Glass City 200 winner and former ASA champion is also the ARCA CRA Super Series one-lap track record holder at Toledo with a time of 16.37 seconds.
Nearly every piece on Campbell's late model is new.
"There isn't much we didn't replace on this car. It got wrecked bad in the Snowball Derby race, and we've been working on it ever since. We had to front clip it, rear clip it, brand new engine, anything that matters on this car was replaced."
Brian's father is renowned late model champion Fred Campbell (right), whose career includes 10 late model track championships at Berlin Raceway, where he also hopped in an ARCA Racing Series car one Saturday night and beat ARCA's best back in 2002. Fred has also won several main events at Toledo over the years in a variety of different machines.
The Campbell's wanted to work all the bugs out of their car before returning for competition.
"When everything's new, you're going to find leaks, and it's better to find them today than on raceday. This is why we're here, so we're not chasing this thing when we come back. This is a zero frustration day, when we can relax and little more and figure it out."
Beyond working the bugs out, the Campbell's were also focused on getting one long run in to see how the car will act on older tires.
"Hoosier makes a great tire for these cars - no doubt about it. It doesn't wear out and you can run them all day. But, there's a point when the tire stops working as good as it did when you started, and it's pretty sudden, so we want to find where that stopping point is."
That would be critical knowledge considering there will be a halfway break on lap 76 of the 150-lap race.
"You can change tires (during the break), but if you do, you have to go to the rear, so that's another thing we're doing here today, trying to figure out what our tire strategy should be."
Although the Campbell's are well known for the success at Berlin over the years, the thrill of running Toledo keeps them coming back year after year.
"We love this track. We'd race here every weekend if we could. It's great racing, and lots of fun to drive. You can run two-by-two all the way around this place without wrecking. We love Toledo."
Brian (right) likes the idea of combining the two tours into one jam-packed big show.
"I think it's great that ARCA was able to combine the two series. The Midwest tour will bring lots of really great racers from their end of the world - from the Minnesota, Wisconsin and Illinois area - and pair it up with the ARCA CRA guys which focuses on track here in Ohio, Michigan and Indiana. The Midwest Tour will bring a dozen guys capable of winning. And when you combine that with the guys on the ARCA CRA tour, you're going to get one great show out of it. It's a great idea.
"Then later in the year, we get to go to Madison and race against the Midwest guys are their turf, so that gives us something to look forward to."
The combination of the two tours will unite an interesting mix of veterans and rookies from both sides, including 15-year-old Kyle Benjamin (ARCA CRA Super Series), who has been tearing up the late model ranks no matter where he walks through the gate.
Benjamin (right), who is also slated to race in seven ARCA Racing Series presented by Menards events in 2013, recently won the 37th annual Hardee's Rattler 250 at the South Alabama Speedway. A month earlier, Benjamin won four consecutive Super Late Model events in the 47th annual World Series of Asphalt Stock Car Racing at New Smyrna (Fla.) Speedway during Speedweeks 2013. The Easley, South Carolina rising star also finished second in his ARCA Racing Series debut at Mobile Int'l Speedway in early March.
The first official entry came from three-time ARCA CRA Super Series champion Scott Hantz, who can lay claim to having 'home-court' advantage on the renowned half-mile, high-banked oval. Hantz is also the all-time ARCA CRA Super Series winner with 30 career victories. His accomplishments at Toledo are impressive as well where the Angola, Indiana veteran has nine career wins in ARCA CRA and Outlaw Late Model competition.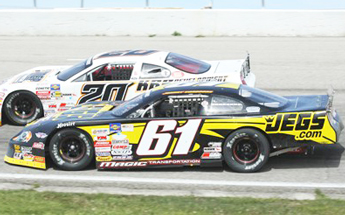 Defending ARCA CRA Super Series champion Johnny VanDoorn, of Coopersville, Michigan, has verbally committed to his entry for the Toledo opener. "That will be my first race of the year," VanDoorn said. VanDoorn, whose No. 61 entry is pictured right, is also a winner at Toledo in the Outlaw Late Model division.
Brandon Hermiller is also expected to enter in the HS Die-Visi-TST Software Chevrolet. Hermiller is the nephew of three-time ARCA Racing Series national champion Tim Steele.
Renowned late model champion Bubba Pollard is another probable entrant. Pollard won the Rattler 250 last year, in addition to winning track championships at Five Flags Speedway and Mobile all in the same 2012 season. Pollard is also a three-time Miller Lite Late Model champion.
Past champions from the ARCA Midwest Tour expected to compete include defending Midwest Tour champion Jonathan Eilen, 2011 champion Andrew Morrissey, 2008 champion Dan Fredrickson, and 2007 champion Nathan Haseleu.
Other entries on the unofficial entry list include late model veterans Kenny Tweedy, Brent Jack, JR Roahrig, Nick Gullatta, Chris Wimmer and James Swan. Swan is the 2012 Midwest Tour Truck champion.
The 7-Up 150 will also air on the Buckeye Cable Sports Network (BCSN) on "Sunday Night at the Races" at 9 p.m. on the local Toledo cable access channel Sunday, April 21. The race can also be purchased through BCSN's video-on-demand programming at bcsn.tv/vod.html.
An optional open practice session is set for Friday, April 19 from 3 p.m. to 7 p.m. All Friday pit pass purchasers will be treated to a bbq chicken dinner following the practice at the Speedway Bar and Grille, located adjacent to the track.
Race day, Saturday, April 20 will see practice begin at 11 a.m. with qualifying set for 3, followed by racing beginning at 5 p.m. The schedule includes a last-chance race (if necessary), an on-track autograph session and the 7-Up 150-lap feature, which will be all green flag laps of racing. A 10 minute break is planned at lap 76. A rain date of Sunday, April 21 at 1 p.m. has been established if necessary.
Race fans can save $5 per ticket if purchased prior to race day by calling the Toledo track office at 419-727-1100or downloading the 2013 ticket order form at www.toledospeedway.com under forms. The order can be electronically mailed to the track.
Toledo Speedway is located at the I-75/Alexis Road exit on Benore Road at the Michigan-Ohio border.