Pitboxes.com, Safety Initiative Work in Tandem
Pitboxes.com, Safety Initiative Work in Tandem
Tasked with ensuring the safety and well-being of those race teams at every event on the schedule, the ARCA Racing Series officials who make up the ARCA Safety Initiative require a centralized home for equipment as well. That's where Pitboxes.com, a brand headed by former ARCA and NASCAR competitor Ricky Sanders, fits perfectly into play.
Pitboxes.com, a division of Ricky Sanders Racing, Inc., is the pit box supplier for and a participating company in the ARCA Safety Initiative. Throughout this season, from the February opener at Daytona and until the grand finale at Toledo in October, the Safety Initiative has used and will use a specially-prepared pit box from Sanders' company to house safety equipment at all ARCA Racing Series events.
A former racer himself with 21 ARCA starts, one NASCAR Nationwide Series start, and 27 NASCAR Camping World Truck Series races to his credit, Sanders understand the importance of an affiliation with a major racing sanctioning body and series. In 2006, Sanders attempted a full season as a driver for Hixson Motorsports, so he's not just another outsider doing business for the sake of business.
"I have been around the ARCA Racing Series for many years," said Sanders. "ARCA is a great series that takes care of its competitors in many ways. The Safety Initiative shows how much they care about the human aspect of motorsports, and we are proud to help support their program."
Sanders formed Ricky Sanders Racing in 1991 as a fabricated short track car company, and has since expanded to add a suspension business, a race traile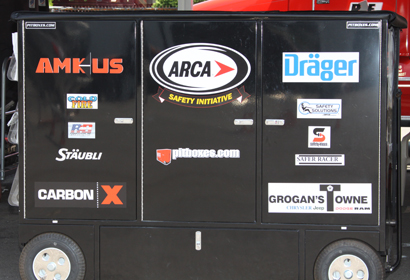 r sales division, a gaming and simulator arm, and of course, Pitboxes.com, which he launched in 1999. For 12 years, the brand has prided itself on fabricating a "high-quality line of standard and custom pit boxes" and "offering top-of-the-line pit boxes to customers from all forms of motorsports."
The ARCA Safety Initiative's new black box is branded with decals of the Initiative's many partners, and includes numerous products from those entities. For example - in the way of fire protection - the box features a full complement of fire extinguisher bottles from Cold Fire, an associate sponsor of the Initiative. Water and ABC (dry chemical) extinguishers of varying sizes - from 1.5 to 20 gallons - fit into the box, along with other fire safety cans and equipment, allowing officials to be prepared at all times.
Rescue tools are easily stored, as well. Amkus, an official product within the Safety Initiative, provides a spreader, three cutters, and a ram for the pit box. Pumps, hoses, funnels, and even a gallon of oil fit within the box and are readily available for Safety Initiative officials' use should a serious situation arise.
R&B Fabrications, another associate sponsor, provides numerous tools within the pit box for use in the Grogan's Towne Chrysler Jeep Dodge Ram safety vehicle, a Dodge Journey. Speed boards, hooks, and a rollover kit are just several of the R&B products which fit in the box. An array of DeWalt tools, including saws, drills, tool bags, and extra chargers and batteries are also at the hands of officials accessing the box.
In the event of a medical investigation, the Pitboxes.com box comes in handy with eject kits from Shock Doctor and medical bags from R&B. In all, the Pitboxes.com ARCA Safety Initiative pit box unites and enables many of the Initiative's sponsors, allowing all competitors to race within a secure, safe environment.
Sanders has been in the pit box game for over 20 years, and like many of the ARCA Safety Initiative sponsors, his focus isn't merely limited to racing. He says his Stockbridge, Ga.-based business finds applications in many other walks of life.
"We started building pit boxes in 1990 originally for our own needs, but then others wanted them so it just grew from there," he said. "The motorsports industry is our main focus, but we do a lot of pit boxes each year outside of motorsports, for applications such as exhibits, medical and military applications, and general industry."
If there's any question to the durability of a Sanders pit box, there shouldn't be. Pitboxes.com is up to speed on the latest in technology, says the proprietor.
"Our pit boxes are built using the latest in manufacturing technology," Sanders said. "Everything we do is (computer-aided design) drawn, laser-cut, and computer-formed aluminum with stainless steel hardware. We also powder coat the boxes in-house for a durable finish.
"Using the computer and aluminum, we are able to build a strong but relatively lightweight pit box."
Indeed, strength and lightness are two of the characteristics that make a Pitboxes.com product so appealing to the ARCA Racing Series presented by Menards and the ARCA Safety Initiative. Considering also the safety effects of the simple product on the series and the ways in which Pitboxes.com makes so many ARCA Safety Initiative partners work in tandem, there's no doubt that Ricky Sanders Racing and Pitboxes.com have a winner on their hands.
More information about Ricky Sanders Racing, Inc. and Pitboxes.com is available at http://www.pitboxes.com/.
Pitboxes.com, a division of Ricky Sanders Racing, Inc., partners with and contributes to the ARCA Safety Initiative.
July 20, 2011