Tom Terrific at Daytona!
TOLEDO OH (2-21-08) - The recent ARCA 200 at Daytona was chalk-full of great story lines, drama, excitement, thrills and spills and everything else necessary to do exactly what it did - produce record ratings on SPEED.
One of those story lines circled around Jennifer Belmont's 1 car with Cherry Hill, New Jersey rookie Tom Hessert, III at the helm. And for good reason. In the most competitive Daytona field on record, Hessert, in his career-first superspeedway start, led 21 laps and finished sixth. Not a bad way to kick off the 08 season.
"From a realistic point of view, I'm very satisfied and excited about what we were able to accomplish as a team at Daytona," said Hessert.
"It was definitely a great momentum builder for the rest of the season. But from a racer's standpoint, I certainly thought we should have, could have finished in the top-five. We knew we had a very good racecar. As well as the car ran at Talladega last year, we knew we would be good in the race. But our goal for the weekend was to finish in the top-10, and we certainly met that and even exceeded our expectations in many ways."
Hessert is signed up to run for SunTrust Rookie of the Year honors in 2008 driving for Andy Belmont Racing with title sponsorship from Maaco Auto Painting.
"I plan to run the whole year (See Lead Video from Home Page). I'm really looking forward to running on the dirt tracks. And I haven't run in my home state since I was a kid running quarter midgets and go-karts, so I'm really looking forward to running on the new road course in New Jersey.
"Maaco's been with me since the end of 2004. It's been a gradual integration back into motorsports, and we have an excellent relationship. It certainly works well for me, and hopefully Maaco sees the benefits too."
Maaco most assuredly saw plenty at Daytona where Hessert paced the field for 21 circuits before a final pit stop shuffled him farther back in the order. None the less, Hessert maneuvered his way back up front resulting in the very commendable and solid sixth place finish.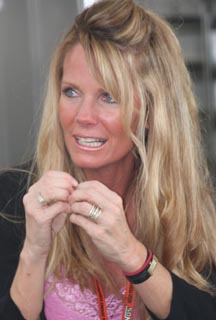 "May car owner Jennifer (Belmont) spotted for me on the front stretch. Jennifer's a great spotter, which is critical at places like Daytona.
"This was the first race with a new team, and we're all meshing very well. I get along with the family and the crew. Andy's (Belmont) been super. We communicate really well. He (Andy) raced on the dirt and so did I, so we speak the same language.
"I mean when I told him that it felt like the right-front is banging a cushion....sort of like nosing over like it would on a dirt track, he knew exactly what I was talking about."
Hessert, a second-generation racer, is a veteran of road course racing (Rolex 24 Hours of Daytona) and USAC Sprints and Midgets. Highlights include a third place points finish in USAC National Midget points in 2004 and a third place finish in the Belleville Midget Nationals, also in 2004. He also twice finished fifth in the Night Before the 500 Midget classic.
Hessert also comes from very good stock. His father Tom Hessert, Jr. is a renowned road course racer with very impressive credentials, which includes three victories in the 24 Hours of Daytona in the IMSA Camel Lights and GTS 2 divisions and three triumphs in the 12 Hours of Sebring. Hessert, Jr. was also the 1988 IMSA Camel Lights champion.
From those roots, Hessert, III is carving out his own career. Next stop - the legendary Salem Speedway for the 83rd running of the Kentuckiana Ford Dealers 200 Sunday, April 13.
"We've definitely got momentum on our side, so I can't wait to get to Salem. It's one of my favorite tracks in the country. I've run midgets and sprints there quite a bit. Actually, last year was the first year I hadn't raced there in a long time. But I'm really looking forward to going; I may even go a day early so I can catch a sprint car race in the area.
"Of course, running a 3,400-pound stock car at Salem as opposed to a 1,350-pound sprint car ( a midget weighs 900) should be very different. The biggest thing, aside from the physical aspect, is that in a stock car everything happens much slower. They don't accelerate as fast and they don't slow down as quickly. If you pick up the gas too soon in a stock car, it'll push through the corner; whereas in a sprint car you can drive it in deeper, crank the car around and drive off the right-rear. In the stock car, you can't run in the corner too deep because the car is not going to rotate as well. But it's (Salem) still the same rough track, and you're still in a racecar. That's why I like Salem. It's rough, and you have to run it right up to the wall."
Uh-oh, better get Maaco.